Live Wedding Bands for Hire in Adelaide
Winner of the 2012 Australian Bridal Industry Academy (ABIA) 'Best Live Wedding Band in South Australia' Award!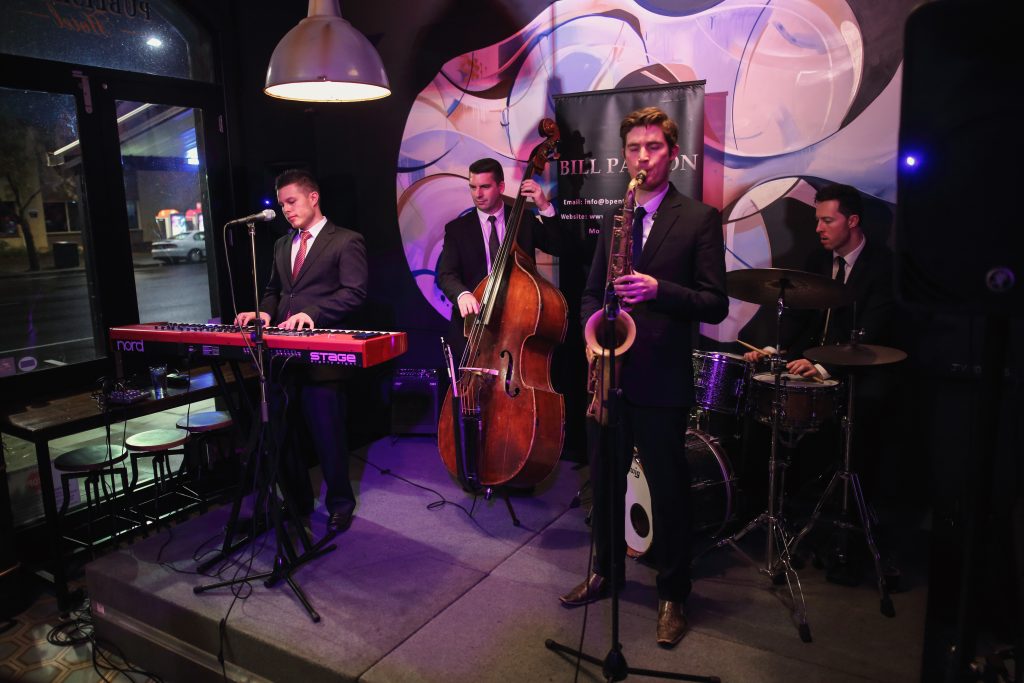 If you're considering entertainment options for your special day and reckon you might want to hire an Adelaide live jazz band to perform the music at your wedding, you've come to the right place!
Having performed at the majority of South Australian reception & ceremony venues with a track record of over 300 weddings, it's a real sure bet that when it comes to weddings, you won't find anyone that goes more hand in hand than Bill Parton!
WHO'S BILL?
Bill Parton is a fresh, popular, classy, hip, charismatic, super-smooth and internationally-acclaimed award-winning vocalist, performer, pianist and entertainer. He effortlessly combines jazz, swing, adult contemporary & easy listening genres with modern show business to create a product that's cool and socially relevant today. Bill draws his jazz influences from Louis Armstrong, Frank Sinatra, Tony Bennett, Harry Connick Jr, Jamie Cullum, Mark Murphy and Kurt Elling. His mainstream musical influences include The Beatles, Queen, Jeff Buckley, Radiohead, Coldplay and Keane.
Parton comes with a wealth of experience and an impressive resume having been active on the professional live scene since the age of 12 when he first started performing at local piano bars. He has since accumulated a tally of over 1000 performances to over 750 different clients at over 250 different venues. He is both well known and respected within the wedding industry and has even previously won the Australian Bridal Industry Academy (ABIA) Award for 'Best South Australian Live Wedding Band'. His HUGE wide-ranging song library, vast industry experience and professional service delivery all combined stand him in excellent stead to cater for your perfect wedding.
"Undeniably charismatic" – Stephanie Liew (Inpress Magazine)
"The find of the year" – Richard Margetson (ABC)
"A GREAT voice" – Mark Holland (EMI)
IT'S MORE THAN JUST THE MUSIC
Bill's performances have a very special quality….. Bill harnesses the power of music to connect with the heart and soul of his audience. His smooth music creates a 'feel good' 'warm & fuzzy' atmosphere. Whatever the size of the event, he leaves audiences wanting more and sad to go home.
Bill firmly embraces the ideology that supplying live entertainment goes beyond merely showcasing art. We strive to maintain a premium quality product, carefully tailored to your particular wedding goals, ensuring that you as the Bride & Groom receive optimal value for money.
SONG LIBRARY
Click here for a full list of songs performed.
NOTE: Applicable to Piano Man, BP Acoustic and BP All-Stars acts only
CEREMONY ENTERTAINMENT
Piano Man
Piano-Vocalist doing the 'Piano Man' act performing all the easy listening adult contemporary classics. The Beatles, Coldplay, Lionel Ritchie, Ben Folds, The Whitlams, Elton John, Billy Joel and more!
OR
BP Acoustic (Acoustic Duo)


Classic Acoustic Duo configuration comprising of vocals and acoustic guitar performing a mixture of smooth jazz & relaxed easy listening repertoire creating a warm atmosphere for guests.
RECEPTION ENTERTAINMENT
BP All-Stars (Funky Jazz Band)
Previously voted best wedding band in Adelaide, the BP All-Stars is by far our most popular act hired for weddings. Performing a mix of smooth 'feel good' Jazz, warm easy listening adult contemporary dinner tunes and classic party repertoire.
OR
BP w/Adelaide Big Band


18-piece big band comprising of South Australia's finest musical talent fronted by Australian award winning crooner Bill Parton, performing songs in the style of the traditional big band jazz & swing genre. It sounds sweet, classy and expensive, it feels good and it represents the pinnacle in live entertainment. It will be the equivalent of having Michael Bublé with a full jazz orchestra perform at your function. It's guaranteed to blow your guests away and will have you proudly boasting the memory for years to come! Over the top by 1000%… but totally worth it!
OR
BP Revue (Party Cover Band)


9-piece band comprising of Male Lead Vocals, 2x Female Backing Vocals, Trumpet, Saxophone, Trombone, Guitar, Keyboard, Bass & Drums. Performing a mix of both classic and contemporary party tunes, everything from The Beatles to Beyonce. If you're looking for a band that will get your dance floor pumping, the BP Revue is a sure bet.
OR
AWARD-WINNING WEDDING RECEPTION MUSIC 'BLUEPRINT' (BP ALL-STARS)
We boast a simple yet effective award-winning wedding reception music formula that has served Brides & Grooms of Adelaide for over a decade. The music during the initial hours is low-key and in the background creating a warm mood and pleasant ambience as guests arrive, throughout pre-dinner drinks, dinner and amongst your formalities (i.e. speeches etc). Subsequent to the Bridal Waltz and for the last hour or so (once the alcohol usually has oozed-in and as the Bridesmaids kick off their high-heels) the band will raise the volume level a few decibels and perform more up-beat party-like songs to get everyone up on the dance floor and create an ultimate high to conclude the wedding! Does this sound like the kind of format that you're going to be after?
PRE-BRIDAL WALTZ
(i.e. low-key music in the background creating a warm mood and pleasant ambience as guests arrive, throughout pre-dinner drinks, dinner and amongst formalities)
Musical genres typically performed pre-bridal waltz include:
Ballads – e.g. Unforgettable (Nat King Cole), Smoke Gets In Your Eyes (Platters)
Bossa Nova – e.g. Quando, Quando, Quando, (Michael Bublé), The Girl From Ipanema (Stan Getz)
Jazz & Swing – e.g. Come Fly With Me (Frank Sinatra), Moondance (Van Morrison)
Easy Listening – e.g. Easy (Lionel Richie), Hallelujah (Leonard Cohen)
Adult Contemporary – e.g. Yellow (Coldplay), Better Man (Robbie Williams)
POST-BRIDAL WALTZ
(i.e. louder up-beat party-like songs to get everyone up on the dance floor and create an ultimate high to conclude the wedding)
Musical genres typically performed post-bridal waltz include:
Funk & Soul – e.g. Superstition (Stevie Wonder), Let's Stay Together (Al Green)
Rock & Roll – e.g. Hippy Hippy Shake (The Beatles), Old Time Rock & Roll (Bob Seger)
Cheese – e.g. I Will Survive (Gloria Gaynor), That's Amore (Dean Martin)
Party Classics – e.g. Mustang Sally (The Commitments), Cant Take My Eyes Off You (Frankie Valli)
PACKAGE & ADD-ONS
Basic Package
Includes:
Live Act
Basic PA System


(i.e. Small act-operated PA system ample for small to medium venues such as small function rooms, restaurants, bars, private houses, golf clubs, wineries etc)

Microphone (Non-Wireless)


(Available for the MC, speeches etc)
Add-Ons
Include:
Upon enquiring, please advise if there are any add-ons you're interested in.
ABIA ACCREDITATION (AUSTRALIAN BRIDAL INDUSTRY ACADEMY)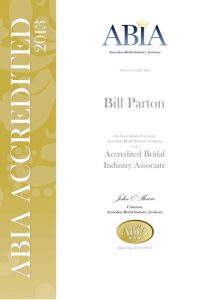 Please do contact us to discuss your perfect wedding.