BP w/Adelaide Big Band
Instead of an ordinary 'everyday' band, DJ or acoustic duo, think big and imagine hiring 18x Adelaide live musicians for your next event!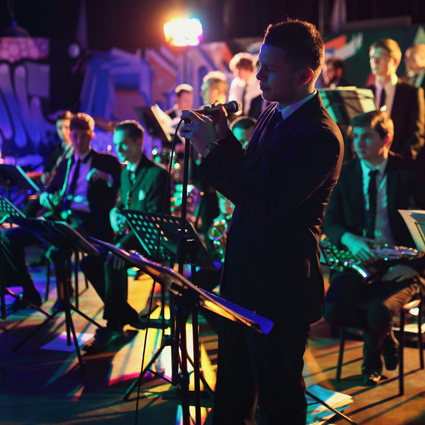 18-piece big band comprising of South Australia's finest musical talent fronted by Australian award winning crooner Bill Parton, performing songs in the style of the traditional big band jazz & swing genre.
It sounds sweet, classy and expensive, it feels good, it showcases Parton's unique contemporary stance on big band crooning and it represents the pinnacle in live entertainment. It will be the equivalent of having Michael Bublé with a full jazz orchestra perform at your function.
This production is mainly engaged for conference gala dinners, large corporate events and the occasional wedding where the venue is large, there's a healthy entertainment budget and the Bride and Groom are crazy enough to want to book an 18-piece big band.
This is an incredibly special production that's guaranteed to blow your guests away and will have you proudly boasting the memory for years to come! Over the top by 1000%… but totally worth it!
Song List:
Bad Habits (Billy Field)
Can't Take My Eyes Off Of You (Frankie Valli)
Copacabana (Bruce Sussman / Jack Feldman)
Crazy In Love (Beyoncé)
Does Anybody Really Know What Time It Is (Robert Lamm)
Easy (Lionel Richie)
I Gotta Woman (Ray Charles)
I Want To Talk About You (Billy Eckstine)
If I Ain't Got You (Alicia keys / Augello-Cook)
I'm Gonna Sit Right Down And Write Myself A Letter (Frederick Ahlert / Joe Young)
It Had To Be You (Gus Kahn / Isham Jones)
Misty (Johnny Burke / Erroll Garner)
Mustang Sally (The Commitments)
My Favourite Things (Oscar Hammerstein & Richard Rodgers)
My Foolish Heart (Ned Washington / Victor Young)
My Way (Jacques Revaux / Claude Francois / Paul Anka)
Over The Rainbow (Harold Arlen / Edgar Harburg)
She Will Be Loved (Adam Levine/ James Valentine)
Spinning Wheel (David Thomas)
Superstar (Leon Russell / Bonnie Bramlett)
Swing Supreme (Robbie Williams / Guy Chambers / Dino Fekaris / Freddie Perren)
Tea For Two (Vincent Youmans / Irving Caesar)
Watch What Happens (Michel LeGrand / Norman Gimbel / Jacques Louis Demy)
You Shook Me All Night Long (AC/DC)