BP Productions
Bill Parton can feature in a wide range of musical configurations from solo to small ensembles (i.e. duos, trios, quintets etc) of various different instrument combinations, to big bands and large orchestras. Bill offers a diverse range of styles from background ambient instrumental jazz to feature adult contemporary 'show-biz' entertainment segments.
---
Featuring Bill Parton doing the solo 'Piano Man' thing.
Adult Contemporary & Easy listening tunes. Performing the likes of The Beatles, Coldplay, Lionel Ritchie, Ben Folds, The Whitlams, Harry Connick Jr, Leonard Cohen, Elton John, Billy Joel etc.
Parton is a very experienced solo pianist having been engaged as the resident pianist over the years by a number of different venues including Watermark Hotel Glenelg, Colonnades Tavern, Hilton Adelaide, InterContinental Adelaide, Arkaba Hotel Motel and Seven Hills Toongabbie RSL.
Great entertainment option for piano bars and cocktail lounges. In a corporate function context, it's a great entertainment option for pre-dinner drinks and during dinner. It's also a great option to consider for wedding ceremonies.
Click here for further information.
---
Classic Acoustic Duo configuration comprising of vocals and acoustic guitar performing a mixture of smooth jazz & relaxed easy listening repertoire creating a warm atmosphere for guests.
Great entertainment option for a pre-dinner drinks context. It's also a popular entertainment option to consider for wedding ceremonies.
Click here for further information.
---
The BP All-Stars features Bill Parton with a small rhythm section (i.e. keyboard, bass and drums) and brass section (if required by client). This small ensemble configuration is very active and represents BP Entertainment for the vast majority of jobs. It does everything from pubs & bars to wineries to festivals to private functions and MANY (WAY TOO MANY) WEDDINGS!!!
The group has a MASSIVE song list and plays songs from a wide selection of genres from jazz to easy listening adult contemporary to classic party tunes (i.e. Frank Sinatra to Coldplay to Stevie Wonder). Accordingly, this unit can cater for any kind of environment from an intimate cocktail setting to a raging party with a jam-packed dance floor!
Click here for further information.
---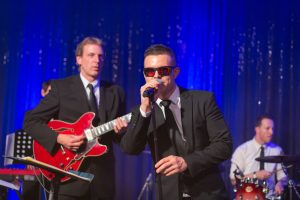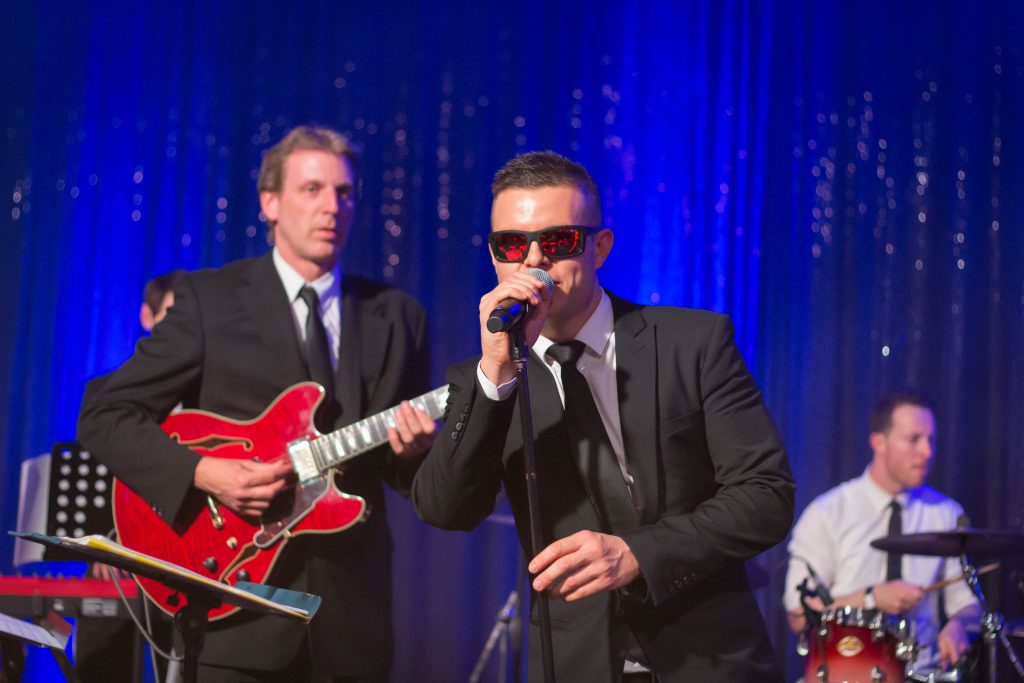 BP Review are a 9-piece Adelaide cover band comprising of Male Lead Vocals, 2x Female Backing Vocals, Trumpet, Saxophone, Trombone, Guitar, Keyboard, Bass & Drums. Performing a mix of both classic and contemporary party tunes, everything from The Beatles to Beyonce. If you're looking for a band that will get your dance floor fired up, the BP Revue is a sure bet.
Click here for further information.
---
18-piece big band comprising of South Australia's finest musical talent fronted by Australian award winning crooner Bill Parton, performing songs in the style of the traditional big band jazz & swing genre.
It sounds sweet, classy and expensive, it feels good, it showcases Parton's unique contemporary stance on big band crooning and it represents the pinnacle in live entertainment. It will be the equivalent of having Michael Bublé with a full jazz orchestra perform at your function.
This production is mainly engaged for conference gala dinners, large corporate events and the occasional wedding where the venue is large, there's a healthy entertainment budget and the Bride and Groom are crazy enough to want to book an 18-piece big band.
This is an incredibly special production that's guaranteed to blow your guests away and will have you proudly boasting the memory for years to come! Over the top by 1000%… but totally worth it!
Click here for further information.