Production Upgrade
(i.e. Comprehensive PA System, Wireless Microphone, Stage Lighting, Fog Machines & AV Engineer(s))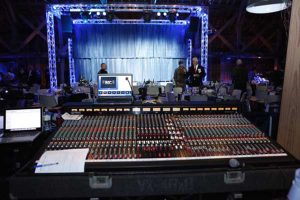 For a relatively small extra cost, the added production elements definitely enhance the band's presence and expensive 'wow' factor. The production upgrade is particularly desirable for large venues/spaces (e.g. hotel ballrooms, function centres etc) and outdoor settings (e.g. outdoor marquees). On the other hand, it's definitely not an advisable add-on for small venues/spaces (e.g. small function rooms, bars, private houses etc) due to space constraints as well as the fact that it can be a little bit 'overkill'.
ADDED PRODUCTION ELEMENTS
Comprehensive PA System

Additional Speakers (Extra Sound Reinforcement)

Inclusion of Subwoofers (NOTE: Venue Dependent)

ALL Instrumentation 'Micd-up', 'Patched' and 'Mixed'

More Powerful System

Premium Quality Sound
Wireless Microphone

Enables the MC and other speakers to roam freely when making announcements and delivering speeches
Stage Lighting

Adds that extra-special touch visually and in particular, when it comes to the later part of the night, visually speaking, the addition of the lighting really does bring the party to life!
Fog Machines

Produce clouds of white fog on demand to add an extra visual dimension to the live entertainment by revealing the beams of colour from stage lighting
AV Engineer(s)
On-site AV Engineer (or possibly two) for the Event

Mix & Manage Band's Sound

Manage Stage Lighting

Bump-In, Setup & Dismantle AV

Liaise Directly with Client/MC Regarding Sound, Volume & AV Issues