Robbie Williams 'Swing When You're Winning' Tribute Show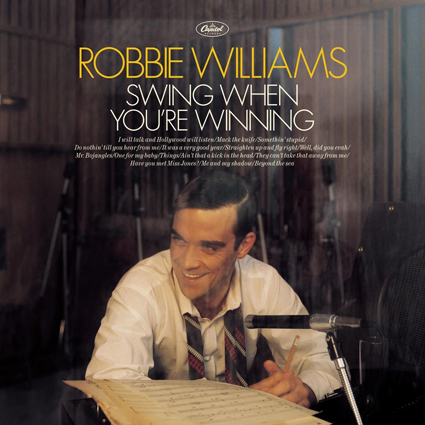 This show pays tribute to English singer-songwriter Robbie Williams' fourth studio album 'Swing When You're Winning' and features Bill Parton with the Adelaide Big Band.
The Adelaide Big Band is an 18 piece jazz orchestra featuring some of South Australia's finest musical talent!
Swing When You're Winning is a swing cover album. When the album was released in late 2001, it became an instant #1 hit in the United Kingdom, spending six consecutive weeks at #1. In Ireland, New Zealand, Austria, Germany and Switzerland, it reached the top 10, going on to sell over two million copies by the end of 2001 in the United Kingdom and over seven million copies worldwide.
Songs include Mack The Knife, Something Stupid, Beyond The Sea and Mr Bojangles.
This production is mainly engaged for conference gala dinners, large corporate events and the occasional wedding where the venue is large, there's a healthy entertainment budget and the Bride and Groom are crazy enough to want to book an 18-piece big band.
Song List:
Ain't That A Kick In The Head (Jimmy Heusen / Sammy Cahn)
Angels (Robbie Williams / Guy Chambers)
Beyond The Sea (Charles Trenet / Jack Lawrence)
Do Nothin' Til You Hear From Me (Duke Ellington & Bob Russell)
Have You Met Miss Jones? (Richard Rodgers / Lorenz Hart)
Mack The Knife (Kurt Weill)
Me And My Shadow (Al Jolson / Billy Rose / Dave Dreyer)
Mr Bojangles (Jerry Walker)
My Way (Jacques Revaux / Claude Francois / Paul Anka)
One For My Baby (Harold Arlen / Johnny Mercer)
Something Stupid (Clarence Parks)
Straighten Up And Fly Right (Nat King Cole & Irving Mills)
Swing Supreme (Robbie Williams / Guy Chambers / Dino Fekaris / Freddie Perren)
They Can't Take That Away From Me (George Gershwin Ira Gershwin)
Things (Bobby Darin)